Hotels in Stratford
Select from the wide range of hotels within town and also within the surrounding area. Choose from an out of town based bed and breakfast or a bed and breakfast set in the rural Warwickshire countryside. Stratford-upon-Avon is surrounded by many villages, hamlets and farmsteads, with many offering superb, tranquil B&B accommodation.
Please select from the list below.
The general facilities can be highlighted by mousing over the yellow box. The accommodation award ratings are also shown.
To see more details of the hotel, simply click on the title of each hotel to go directly to their website.
For more accommodation choices please see our:
Visit Stratford Website
Clifford Chambers, Stratford-upon-Avon Warwickshire CV37 8AR
Just on the outskirts of town - well known for its superb home-cooked food, all freshly prepared to order, ideally placed for the Cotswolds, Stratford and Warwick. Well known for its superb home-cooked food, all freshly prepared to order, ideally placed for the Cotswolds, Stratford and Warwick.
For availability, prices and online booking
....
Chapel Street, Stratford-upon-Avon. Warwickshire CV37 6HA
Originally a 16th Century Inn, the Falcon is situated right in the heart of historic Stratford
Warwick Road, Stratford-upon-Avon - 01789 269213.
The Best Western Grosvenor Hotel in Stratford upon Avon is a delightful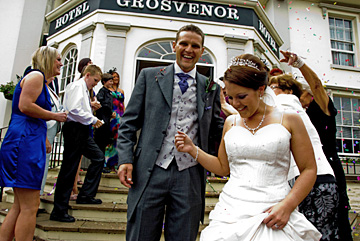 Grade II listed hotel located close to the centre of Stratford upon Avon, in the heart of Warwickshire, only a few miles from Warwick, Leamington Spa, Birmingham and the National Exhibition Centre (NEC). This Georgian style hotel is one of the most distinctive hotels in Stratford upon Avon, the delightfully rambling ground floor exudes tremendous character with small, intimate lounges, creating an ambience to match the Shakespearean past of this historic market town.
Whether it's a small intimate setting or a larger party you are planning we can cater for all your needs with function rooms accommodating up to 120 guests. Call us today to speak to our Wedding Co-ordinator about our fantastic special offers and facilities.
All Inclusive wedding package from £2,000 tailored to cover the whole day from wedding breakfast through to evening reception. 10% off your Winter Wedding between October and March.
Discounted accommodation rates for your wedding guests.
Licensed for Civil Ceremonies.
Warwick Road, Stratford-upon-Avon - 01789 295252.
Set in 157 acres of beautiful parkland, just outside Stratford-upon-Avon, the Menzies Welcombe Hotel Spa & Golf Club is steeped in history and tradition.
The sumptuous surroundings of this magnificent hotel, the luxurious bedrooms, the superb choice of function rooms, the stunning gardens and grounds, the splendid golf course and fabulous spa combine to make the Menzies Welcombe the perfect location for your wedding.
The Menzies Welcombe is wonderfully romantic. Built in the style of a Calendar House with 7 entrances (days of the week), 12 fireplaces (months), 52 chimneys (weeks) and 365 windows (days of the year), it is said to infuse luck and prosperity to everyone who stays. The perfect place to hold your special day.
We understand how important even the smallest detail is to you and our experienced and dedicated team will be on hand to ensure everything runs exactly as planned to allow you to relax and enjoy every moment.
Billesley, Alcester - 01789 279955
Congratulations, you're getting married . . .
Barceló Billesley Manor Hotel is the ideal wedding venue near Stratford-upon-Avon. Set in 11 acres of beautiful Warwickshire countryside, this Grade II listed, 16th Century, Elizabethan manor house hotel boasts an 100 year old listed topiary garden within the grounds and offers a truly romantic, picturesque setting to celebrate your special day. Whatever type of day you're looking for, whether it's a fairytale wedding with a lavish reception, an intimate celebration with your closest friends and family, or a civil partnership or commitment ceremony we can help you to create the perfect day.
We have three beautiful function rooms to host your special day, holding up to 100 guests including the Great Hall with its own Minstrels Gallery and the Topiary Suite, which boasts spectacular views over the gardens and opens out onto the terrace and lawns for your drinks reception.
As well as an exquisite interior and stunning grounds, the hotel also offers a Health Club with a swimming pool for your guests to enjoy, and beauty rooms to ensure you feel relaxed and pampered on your special day. This Warwickshire hotel is only a short distance from Stratford upon Avon and the M40, so arriving at the hotel couldn't be easier for you and your guests, and with 72 bedrooms your whole day can be spent at this unique venue.